Having your kids read books about going to the dentist can help make the experience easier for nervous kids. It's best to have a range of books for different reading levels. The books should focus on visits to the dentist. This allows a child to relate to a fictitious character's experience; this can have a calming effect. Knowing what's going on around them can alleviate anxiety. A well-written book on going to the dentist will capture a child's interest and show them that the dentist's office is a friendly place filled with people who care about their smile. Here are some of the best books around leading up to your kids' dental visit.
The Berenstain Bears Visit The Dentist 
This is a children's
classic
from Stan and Jan Berenstain.
Sister Bear watches Dr. Bearson fill Brother Bear's small cavity. Then it's her turn in the chair to have a dangling baby tooth removed. An entertaining story for preschoolers of a cheerful and informative visit to a dentist.
What to Expect When You Got to The Dentist 
A helpful
little book
for children with anxiety over their first dentist appointment from best-selling author Heidi Murkoff.
When you were growing up, chances are visiting the dentist wasn't your favorite thing to do. Luckily for your child there have been many changes around the dentist's office since your first visit — changes that have made "opening up wide" a lot less scary and a lot more fun. We're here to explain who dentists are, what they do, why they use all those funny tools, and why regular visits to them can mean a healthier smile so that your child can sit back, relax, and enjoy the checkup.
Doctor De Soto 
This is a
story
about a mouse dentist from William Steig. This book takes a light-hearted look at dentistry with wonderfully absurd situations that make kids giggle.
Doctor De Soto, the mouse dentist, is very good at his work. He treats small animals in his normal dentist's chair, and bigger animals by climbing on a ladder. He reaches the biggest animals by pulley, and he works right inside their mouths.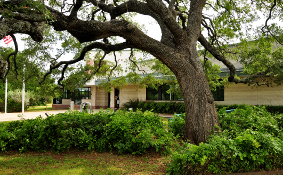 Visit the Austin Public Library branch near you to check out books like these or purchase books through their book sales! You can find their locations
here
.
Contact us for a fun and friendly dental appointment for your entire family!